News
New tKINO-BW models are now slimmer and offer richer I/O
20.09.16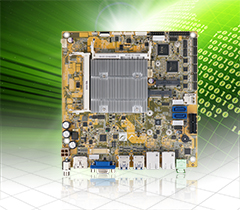 iEi has released the new version of their popular
tKINO-BW.
The new SBC models come in a Mini-ITX form factor with an impressive spec sheet.
Users have the choice to choose between Intel® Pentium® and Intel® Celeron® processors; both offering clock speeds up to 2.56 GHz, and 2MB cache through on-board SoC. It also features 2x DDR3L SDRAM SO-DIMM slots (up to 8GB), Intel® HD Graphics Engine (Gen 8) and a low power requirement for external 12V DC input as well as an internal power connector (2x2 pin).
As well as offering heavy hitting processing capabilities, the tKINO comes with a host of external I/O options; including triple independent display VGA, LVDS (both up to 1920x1200) and DP/HDMI (up to 3840x2160), dual GbE LAN, 4xUSB 3.0, and HD Audio.
The flexibility offered by the tKINO BW allows the user to choose between several Internal I/O options: 2xSATA (6Gbs), 1x mSATA, 4x RS-232, 2x RS-232/422/485, expansion for 1xPCIe Mini, 1xmicroSD, and 1xPCIe (x1).
News Archive

?iEishop.com, the premier UK distributor for IEI products has introduced the new KINO DQM series...
Amplicon is proud to support a charity that works so hard to make modern IT available to those whom do not have easy access to technology, greatly enhancing their ability to learn, work and progress....

Following their annual audit, Amplicon has successfully achieved the requirements of international standard ISO 9001:2015....

The AFL3-08A-BT is the latest light industrial PPC from iEi. The new compact, yet powerful PC has been designed for interactivity and connectivity. Not one bit of space has been wasted in this compact PC...

iEishop.com, the premier UK distributor for IEI products, has introduced the new IVS-300-BT-E5...

The TANK-870-Q170i series is the newest addition to the iEi's ruggedised fanless embedded PC range...

iEi has introduced a new fully-rugged PDA, the MODAT-532. This mobile device is the combination of a 1D/2D imager with a barcode scan engine and an IP67 compliant portable device, making it an ideal mobile data collector for any environment....

The uIBX-250-BW from iEi is a compact fanless Embedded PC designed for applications that require a great amount of interface options and processing power but have limited space to work in....

Do you think of video capture as large, power hungry and cumbersome cards? This is just about to change and will soon be eradicated with the adoption of the mPCIe standard....