News
IEI Launched New Software Defined Router with OpenWrt - PUZZLE-M901 and PUZZLE-M902
02.09.21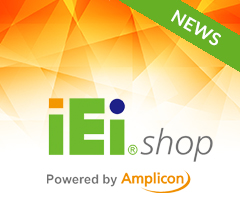 The growing number of connected personal and IoT devices has led to an overall increase in network density. The PUZZLE-M901 and the PUZZLE-M902 are IEI's latest product series – Software Defined Router, which is pre-installed with OpenWrt and features high speed and high flexibility to optimize your network performance.
This series is integrated with 2.5GbE and 10GbE (M902) ports and the interfaces can be defined with various combination to meet your demands. Moreover, its function can also be expanded by open source applications supported in the OpenWrt community. The PUZZLE-M901 and the PUZZLE-M902 are ideally suited for a wide range of applications, such as SOHO and SMB networking infrastructure.
High computing capability with Marvell Quad-core SoC
The Marvell CN9130 is a quad-core Armv8 Cortex-A72 system-on-chip (SoC). The high-performance processor offers a complete function and acceleration for networking and security applications.
Flexible high-speed network deployment
The PUZZLE-M901 and PUZZLE-M902 can offer you incredible speed for data transmission with six 2.5 GbE ports and three 10 GbE* ports. Combined with OpenWrt, you can select and run different functions in this series, and its interfaces can be defined to link with multiple devices for different tasks and purposes.
OpenWrt, The Mainstream Open Source Project for Router
The hottest open source project, OpenWrt, which is based on Linux-based embedded operating system and used on embedded devices to route network traffic. Approximately 3,500 optional software packages can be installed through the opkg package management system and designed with user-friendly interface to support IT or developers to operate any function easily. It provides detailed possibilities to configure common network-related functions, such as IPv4, VPN, firewall, NAT, or port forwarding and so on.
News Archive

IEI Launches New ATX Motherboard Featuring 10th/11th Gen Intel® Core™ CPU and AI Capability – IMBA-H420...

IEI Launches HPCIE-Q470 PICMG 1.3 Half-Size Single Board Computer Featuring Latest 10th/11th Gen Intel® CoreTM Processors for Performance-Demanding Applications...

Grab the Emerging Smart Robotics Market Opportunities with IEI WAFER-JL-N5105...

IEI Integration Corp. is to reveal its new generation of high core count network appliances, the PUZZLE-7040 and the PUZZLE-7030, powered by the latest Intel® Xeon D Series Processors....

IEI IMBA-Q470 is an ATX industrial motherboard supporting Intel's 10th/11th Generation Core™ i9/i7/i5/i3, Celeron®/Pentium® processors and up to 128 GB 2933 MHz DDR4 memory. ...

Microsoft announced the release of the new operating system, Windows 11, in October. IEI has tested Windows 11 on our products over the past few months, and we can help you on the transition to Windows 11....

The HTB-210-Q470 has a professional heat dissipation system designed for the internal GPU card, enabling high-performance AI computing in a small chassis....

IEI is partnering with Coral to expand the edge AI business by providing an easier platform for AI developers....

IEI cooperated with Intel® to offer a more stable and optimized network edge computing solution, IEI's PUZZLE-IN004, the powerful 1U network appliance with high bandwidth....