News
IEI Release the New AI Box PC: HTB-210-Q470
24.11.21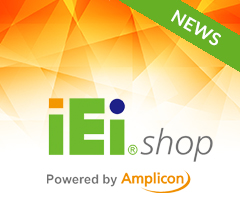 The HTB-210-Q470 has a professional heat dissipation system designed for the internal GPU card, enabling high-performance AI computing in a small chassis. It is different from other products that are large, difficult to clean, and with cabling issue due to their too simplified functions that need connection with other external peripherals. The simple outlook of the HTB-210 makes it more suitable for integration in various medical environments. It can save space, and is easy to clean. It is the best choice for medical personnel to perform accurate and stable medical analytics in an economical way.
Dual PCIe Slots
(1) PCIe x16
Accelerator cards are crucial to data scientists. High compatibility for the GPU cards such as NVIDIA P4/T4/Quadro series allows the end user to choose accelerator cards based on their different needs.
(2) PCIe x4
The redundant PCIe x4 slot is reserved for all-in-one video capture cards or other expansions.
Unique Thermal Solution
Catering to NVIDIA® Tesla T4 passive heat sink design, IEI adopts blower-ventilation solution that not only creates a strong air flow but also minimizes the noise made by fan system.
Easy Maintenance
The accessible hard drive enables IT technicians to do the maintenance work more easily. The drive bay is located in the bottom of the HTB-210 and accepts 2.5" SSD or HDD. The IT technician can easily check or replace the storage device by removing four cover screws.
News Archive

IEI Launches New ATX Motherboard Featuring 10th/11th Gen Intel® Core™ CPU and AI Capability – IMBA-H420...

IEI Launches HPCIE-Q470 PICMG 1.3 Half-Size Single Board Computer Featuring Latest 10th/11th Gen Intel® CoreTM Processors for Performance-Demanding Applications...

Grab the Emerging Smart Robotics Market Opportunities with IEI WAFER-JL-N5105...

IEI Integration Corp. is to reveal its new generation of high core count network appliances, the PUZZLE-7040 and the PUZZLE-7030, powered by the latest Intel® Xeon D Series Processors....

IEI IMBA-Q470 is an ATX industrial motherboard supporting Intel's 10th/11th Generation Core™ i9/i7/i5/i3, Celeron®/Pentium® processors and up to 128 GB 2933 MHz DDR4 memory. ...

Microsoft announced the release of the new operating system, Windows 11, in October. IEI has tested Windows 11 on our products over the past few months, and we can help you on the transition to Windows 11....

IEI is partnering with Coral to expand the edge AI business by providing an easier platform for AI developers....

The PUZZLE-M901 and the PUZZLE-M902 are IEI's latest product series – Software Defined Router, which is pre-installed with OpenWrt and features high speed and high flexibility to optimize your network performance....

IEI cooperated with Intel® to offer a more stable and optimized network edge computing solution, IEI's PUZZLE-IN004, the powerful 1U network appliance with high bandwidth....