News
IEI Launches High Core Density 1U Network Appliance PUZZLE-9030 with 3rd Gen AMD® EPYC™ 7003 Series Processor
23.07.22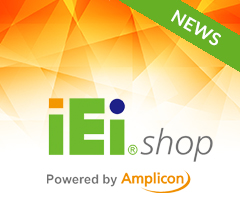 IEI a new addition to its network appliance, the PUZZLE-9030 for SD-WAN architecture and secure access service edge (SASE) solutions. With a 1U 19" rack-mount network appliance and up to 4TB system memory, it features two high throughput AMD® EPYC™ 7543 processors with 64 cores in a dual socket system, delivering up to 36% improvement.

The PUZZLE-9030 supports enhanced availability and serviceability, by including tool-less design, hot-swappable cooling fans and redundant power supplies, which ensure excellent heat dissipation and continuous power delivery.

Design and customise your appliance for today's dynamic network environment. The PUZZLE-9030 is built-in with four on-board OCP NIC 3.0 slots, aiming to deliver flexibility and scalability. Choose IEI's PulM module, the PulM-100G2SF-CX6, featuring dual 100GbE network ICs, for the PUZZLE-9030 to support the highest-bandwidth of NIC expansions up to 800GbE.

The U.2 SSD interface features high-speed, low-latency and low-power NVMe standard protocol. The dual 2.5" U.2 NVMe drive bays of the PUZZLE-9030 support PCIe Gen4 x4 channel which provides up to 7000MB/s data transmission speed. It is 2 times faster than PCIe Gen3 U.2 (3200MB/s) and 10 times faster than SATA (500MB/s).PUZZLE-9030 also features a powerful AI accelerator architecture in a 1U system to enable easy scale-up in order to meet the demands of AI and high-performance computing (HPC), and to securely run workloads in virtualised environments.
News Archive

IEI KINO-TGL is a single-stack Thin Mini-ITX motherboard with rich I/O Interfaces...

IEI Integration Corp, a leading provider of industrial computing service, introduced the FLEX-BX210 2U rackmount computer....

IEI WAFER-TGL takes all the essential elements of the latest 11th Gen....

The 10th Gen Intel® Core platform supports up to 10 cores and improved performance over Coffee Lake-Refresh....

IEI Launches New ATX Motherboard Featuring 10th/11th Gen Intel® Core™ CPU and AI Capability – IMBA-H420...

IEI Launches HPCIE-Q470 PICMG 1.3 Half-Size Single Board Computer Featuring Latest 10th/11th Gen Intel® CoreTM Processors for Performance-Demanding Applications...

Grab the Emerging Smart Robotics Market Opportunities with IEI WAFER-JL-N5105...

IEI Integration Corp. is to reveal its new generation of high core count network appliances, the PUZZLE-7040 and the PUZZLE-7030, powered by the latest Intel® Xeon D Series Processors....

IEI IMBA-Q470 is an ATX industrial motherboard supporting Intel's 10th/11th Generation Core™ i9/i7/i5/i3, Celeron®/Pentium® processors and up to 128 GB 2933 MHz DDR4 memory. ...