News
New MODAT-532, a powerful, optimised and rugged mobile Data collector
15.01.17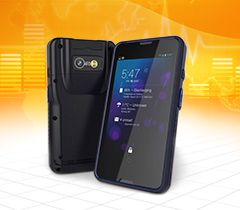 iEi has introduced a new fully-rugged PDA, the MODAT-532. This mobile device is the combination of a 1D/2D imager with a barcode scan engine and an IP67 compliant portable device, making it an ideal mobile data collector for any environment.
The MODAT-532 is powered by a quad-core ARM® Cortex®-A53 processor, has built-in high capacity memory (16GB eMMC and 2GB LPDDR3), and is operated via the easy-to-use Android 5.0 O/S. This mobile device also features an angled barcode reader and a 13-megapixel AF rear camera for even more accurate data collection.
For connectivity purposes a variety of options are available: GSM (800, 900, 1800, 1900), Wi-Fi, Bluetooth 4.0, optional WCDMA, and 4G LTE comms technologies, meaning the MODAT-532 can keep users connected anytime, anywhere and is ready for any scenario.
This compact and lightweight unit is also IP67 rated, meaning it is rugged enough to operate in harsh indoor and outdoor environments. It is designed to withstand high drops and function well even in dusty and heavy rain conditions.
The MODAT-532 offers a 5.3" screen with multi-touch capability. The screen is built to be usable even during times of high-light/sunlight. Finally, all data and information captured by the device can be transferred via the wireless communication technologies, providing real-time response without any loss and it is capable of performing diverse tasks for manufacturing, retail, healthcare, and logistics industries.
News Archive

The uIBX-250-BW from iEi is a compact fanless Embedded PC designed for applications that require a great amount of interface options and processing power but have limited space to work in....

The AFL3-08A-BT is the latest light industrial PPC from iEi. The new compact, yet powerful PC has been designed for interactivity and connectivity. Not one bit of space has been wasted in this compact PC...

iEi has released the new version of their popular tKINO-BW. The new SBC models come in a Mini-ITX form factor with an impressive spec sheet...

Do you think of video capture as large, power hungry and cumbersome cards? This is just about to change and will soon be eradicated with the adoption of the mPCIe standard....

The NANO-ULT3 is the latest release from iEi, a powerful SBC offering a robust set of specifications to meet nearly all needs....

iEishop.com, the premier UK distributor for IEI products has introduced the new Inter® Core™ 6th generation platform, a powerful, high end motherboard that can be used for many different industrial applications....

The PPC-F12B is a Panel PC powered by the quad-core Intel® Celeron® processor. With a flat bezel and variety of functions and peripherals, this unit can easily be used in industrial and harsh environments....

The IMBA-H810 is a full size ATX mainboard that accepts 4th generation Intel® Core™ socket LGA 1150 processors: previously known as Haswell. ...

iEishop.com, the premier UK distributor for IEI products has introduced the new S24A-QM87, a powerful Panel PC specifically designed for marine applications....