News
IEI Releases 2U Rackmount Computer Featuring Low-profile PCIe 3.0 and RAID Storage – FLEX-BX210-Q470
21.09.22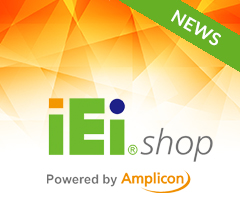 IEI Integration Corp, a leading provider of industrial computing service, introduced the FLEX-BX210 2U rackmount computer engineered with the latest processing technology that powers AI computation and edge computing. With multiple high-end sockets for AI accelerators and NVMe storage, the FLEX-BX210 is capable of processing large volumes of complex data to drive AI functions at the edge. Additionally, it equips four SSD bays offering RAID 0, 1, 5 & 10 functions to ensure maximum security of data and optimal efficiency of performance.
Up to 10 Cores 4.5GHz with DDR4-2933
The FLEX-BX210 is powered by 10th Gen Intel® Core™ processors ranging from 4 to 10 cores, and is pre-installed up to 16GB DDR4-2933 dual-channel memory. With up to 50% better integer multi-tasking compute performance than previous gen, the FLEX-BX210 is able to deliver the performance required to rapidly consolidate diverse workloads.
Ability to Scale via 4 Low-profile PCIe Gen3 Expansion Slots
The FLEX-BX210 supports multiple PCI Express slots including two PCIe x8 and two PCIe x4 slots. All of the four expansion slots of the FLEX series support PCIe Gen3, which doubles the speed per lane from 500MB/s to 1GB/s compared to PCIe Gen2. These high-speed PCIe Gen3 slots are compatible with standard low profile add-on cards.
Reliable RAID Storage Secures Data Processing
The FLEX-BX210 offers four 2.5" SSD slots via SATA 6Gb/s interfaces that support reliable hardware RAID protection to expand storage capacity and enable fast, secure data transfer/backup. Different RAID levels (RAID 0, 1, 5 and 10) can be configured to increase performance and/or provide automatic protection against data loss from drive failure.
News Archive

IEI KINO-TGL is a single-stack Thin Mini-ITX motherboard with rich I/O Interfaces...

IEI WAFER-TGL takes all the essential elements of the latest 11th Gen....

IEI a new addition to its network appliance, the PUZZLE-9030 for SD-WAN architecture and secure access service edge (SASE) solutions...

The 10th Gen Intel® Core platform supports up to 10 cores and improved performance over Coffee Lake-Refresh....

IEI Launches New ATX Motherboard Featuring 10th/11th Gen Intel® Core™ CPU and AI Capability – IMBA-H420...

IEI Launches HPCIE-Q470 PICMG 1.3 Half-Size Single Board Computer Featuring Latest 10th/11th Gen Intel® CoreTM Processors for Performance-Demanding Applications...

Grab the Emerging Smart Robotics Market Opportunities with IEI WAFER-JL-N5105...

IEI Integration Corp. is to reveal its new generation of high core count network appliances, the PUZZLE-7040 and the PUZZLE-7030, powered by the latest Intel® Xeon D Series Processors....

IEI IMBA-Q470 is an ATX industrial motherboard supporting Intel's 10th/11th Generation Core™ i9/i7/i5/i3, Celeron®/Pentium® processors and up to 128 GB 2933 MHz DDR4 memory. ...