News
IEI Launches IMBA-H420 - A New ATX Motherboard
16.05.22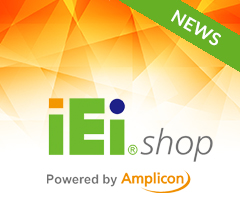 The IMBA-H420 is an ATX motherboard powered by 10th/11th Gen Intel® Core™ processors. With the support of multiple expansion slots and feature rich interfaces, it offers a variety of functionalities and capabilities for the applications that require accelerated computing, fast transmission, seamless upgrades, and high reliability.

Best in Performance
IEI's IMBA-H420 motherboard supports both 10th and 11th Gen Intel® Core™ processors, which boosts performance by up to 80% compared to previous models. The 10th Gen Intel® Core™ supports up to 10 cores and improved performance over Coffee Lake-Refresh. The 10th Gen Intel® Core™ processors contain Intel® UHD Graphics 630 that offers outstanding 4K displays.

Pixel-accurate 4K Resolution
The IMBA-H420 is equipped with three display output connectors, including HDMI, internal DP++ and VGA. The HDMI and DP++ interfaces support pixel-accurate 4K resolutions for high-end applications while the VGA is reserved for legacy devices. The DP++ connector allows the use of a simple adapter to convert to HDMI. It is completely plug and play, handles both video and audio, and does not need any driver to work.

Rich Expansion Options
Bringing together PCIe 3.0 technology and legacy PCI standard creates endless possibilities. A graphics card or AI card can be added via the PCIe x16 for sophisticated applications, like medical diagnosis, machine vision, robotics or AI-based projects. Four PCI slots are also provided to maintain backward compatibility. Legacy systems can be upgraded easily without a full rebuild.

The Power of AI
The IMBA-H420 can deliver excellent computing capabilities to accelerate AI adoption in food/fruit inspection, factory automation and test equipment. By adding IEI's Mustang accelerator card, it could be used for deep learning inference computing to help you get faster, deeper insights for your customers and your business.

Increased efficiency
Enterprises that choose the IMBA-H420 as their solutions for the implementation of 2.5GBASE-T technology will benefit from a simple change that achieves a noticeable gain in bandwidth, while at the same time realizing cost savings from reuse of existing Cat5e cables. The IMBA-H420 is compliant with ErP, and consumes nearly no energy in sleep mode or shutdown, making it a green and eco-friendly product that saves cost and electricity.

Touch-enabled BIOS
The BIOS menu in the latest IEI products is re-designed as a touch-enabled user interface to eliminate excessive steps. It allows users to navigate with finger on a touch-enabled monitor to make BIOS configuration easily. The new design features a graphical interface, shortcut to boot device setup, easy-access function keys, and an on-screen keyboard.
News Archive

IEI Integration Corp, a leading provider of industrial computing service, introduced the FLEX-BX210 2U rackmount computer....

IEI WAFER-TGL takes all the essential elements of the latest 11th Gen....

IEI a new addition to its network appliance, the PUZZLE-9030 for SD-WAN architecture and secure access service edge (SASE) solutions...

The 10th Gen Intel® Core platform supports up to 10 cores and improved performance over Coffee Lake-Refresh....

IEI Launches HPCIE-Q470 PICMG 1.3 Half-Size Single Board Computer Featuring Latest 10th/11th Gen Intel® CoreTM Processors for Performance-Demanding Applications...

Grab the Emerging Smart Robotics Market Opportunities with IEI WAFER-JL-N5105...

IEI Integration Corp. is to reveal its new generation of high core count network appliances, the PUZZLE-7040 and the PUZZLE-7030, powered by the latest Intel® Xeon D Series Processors....

IEI IMBA-Q470 is an ATX industrial motherboard supporting Intel's 10th/11th Generation Core™ i9/i7/i5/i3, Celeron®/Pentium® processors and up to 128 GB 2933 MHz DDR4 memory. ...

Microsoft announced the release of the new operating system, Windows 11, in October. IEI has tested Windows 11 on our products over the past few months, and we can help you on the transition to Windows 11....