News
Are you still using a separate video capture box?
16.07.16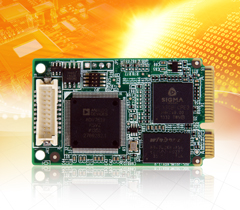 Do you think of video capture as large, power hungry and cumbersome cards? This is just about to change and will soon be eradicated with the adoption of the mPCIe standard. mPCIe has been in the commercial and industrial markets for a while and now, at long last, we have an mPCIe video capture card.

The low power HDC-301MS video capture card from iEi supports 1080p Full HD video via HDMI port. The HDC-301MS is also equipped with a high performing encoder for HDMI and audio input. The SDK shipped with each card gives the user a flexible system architecture that simplifies integration of cameras, video signal processing as well as storage and video management.

Features of the new HDC-301MS video capture card include encoding up to 1920x1080p @ 30fps, plus access to pass through uncompressed transmissions @ 1080p and capture and record in H.264 format. Finally one of the benefits of having all of this functionality built into an mPCIe card is the extremely low power consumption and as a consequence of this comparatively low heat transfer.
News Archive

?iEishop.com, the premier UK distributor for IEI products has introduced the new KINO DQM series...
Amplicon is proud to support a charity that works so hard to make modern IT available to those whom do not have easy access to technology, greatly enhancing their ability to learn, work and progress....

Following their annual audit, Amplicon has successfully achieved the requirements of international standard ISO 9001:2015....

The AFL3-08A-BT is the latest light industrial PPC from iEi. The new compact, yet powerful PC has been designed for interactivity and connectivity. Not one bit of space has been wasted in this compact PC...

iEishop.com, the premier UK distributor for IEI products, has introduced the new IVS-300-BT-E5...

The TANK-870-Q170i series is the newest addition to the iEi's ruggedised fanless embedded PC range...

iEi has introduced a new fully-rugged PDA, the MODAT-532. This mobile device is the combination of a 1D/2D imager with a barcode scan engine and an IP67 compliant portable device, making it an ideal mobile data collector for any environment....

The uIBX-250-BW from iEi is a compact fanless Embedded PC designed for applications that require a great amount of interface options and processing power but have limited space to work in....

iEi has released the new version of their popular tKINO-BW. The new SBC models come in a Mini-ITX form factor with an impressive spec sheet...