News
The Stable and Optimized AI Network Edge Computing Solution with Intel® CERA Platform - PUZZLE Dev. Kit
30.06.21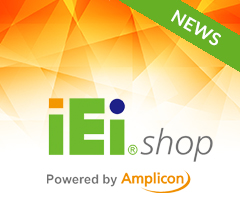 In order to accelerate the computing capability and performance in the network of AI, IEI cooperated with Intel® to offer a more stable and optimized network edge computing solution. IEI's PUZZLE-IN004, the powerful 1U network appliance with high bandwidth, is equipped with Intel® CERA platform to provide complete AI-ready solution with pre-installed software and hardware. IEI and Intel® strive to streamline the get-to-market process from development to deployment, enabling solution providers to consume, deploy, and scale their services to offer new value to customers.

Intel®-powered edge solution, the Converged Edge Reference Architecture (CERA) platform, unifies and converges IoT with wireless infrastructure network technology to simplify workload convergence at the edge while densifying wireless networks. CERA combines Intel®-powered, commercially-hardened hardware, software and support to rapidly deploy wireless networks through an all-in-one solution.

To grow computing efficiency at the network edge, IEI rolled out PUZZLE-IN004 which can work with Intel® CERA smoothly, deliver high bandwidth and powerful performance. The PUZZLE-IN004 is equipped with Intel® Xeon® Processor D-2100 series which is optimized for computing and network. Integrated with up to 512GB quad-channel DDR4, it enables lightning-fast multi-tasking with low power consumption. The PUZZLE-IN004 is designed with four 10GbE SFP+ ports and eight ports of 1GbE (Intel I211) configuration for non-stop network transmission. With a hardware secure multi-tenancy, it also supports Intel® QAT (QuickAssist Technology), PTT (Platform Trusted Technology), Boot Guard, and Intel® AVX-512.

Moreover, the PUZZEL Dev. Kit can provide a platform to move applications from cloud by harnessing the Intel® Open Network Edge Services Software (OpenNESS), a software toolkit that enables highly optimized and performant edge platforms to manage applications and network functions with cloud-like agility. Thus, it is easily compliant with open source for the management of new edge services on premise and at network edge.
News Archive

IEI Launches New ATX Motherboard Featuring 10th/11th Gen Intel® Core™ CPU and AI Capability – IMBA-H420...

IEI Launches HPCIE-Q470 PICMG 1.3 Half-Size Single Board Computer Featuring Latest 10th/11th Gen Intel® CoreTM Processors for Performance-Demanding Applications...

Grab the Emerging Smart Robotics Market Opportunities with IEI WAFER-JL-N5105...

IEI Integration Corp. is to reveal its new generation of high core count network appliances, the PUZZLE-7040 and the PUZZLE-7030, powered by the latest Intel® Xeon D Series Processors....

IEI IMBA-Q470 is an ATX industrial motherboard supporting Intel's 10th/11th Generation Core™ i9/i7/i5/i3, Celeron®/Pentium® processors and up to 128 GB 2933 MHz DDR4 memory. ...

Microsoft announced the release of the new operating system, Windows 11, in October. IEI has tested Windows 11 on our products over the past few months, and we can help you on the transition to Windows 11....

The HTB-210-Q470 has a professional heat dissipation system designed for the internal GPU card, enabling high-performance AI computing in a small chassis....

IEI is partnering with Coral to expand the edge AI business by providing an easier platform for AI developers....

The PUZZLE-M901 and the PUZZLE-M902 are IEI's latest product series – Software Defined Router, which is pre-installed with OpenWrt and features high speed and high flexibility to optimize your network performance....