News
IEI Launches New Powerful AI Accelerator PCIe Cards with Coral Edge TPU™ - Mustang-T100
14.10.21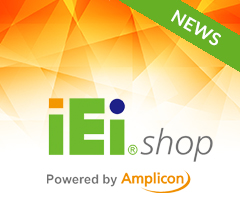 IEI, one of the leading edge computing solution providers today announced that they are partnering with Coral to expand the edge AI business by providing an easier platform for AI developers. Coral products provide high computing capability with low-power consumption with on-device ML acceleration technology that helps developers build fast, efficient, and affordable solutions for the edge. Combined with IEI's hardware integration capabilities, the new Mustang-T100 can deliver a new wave of computing performance for edge AI systems.
IEI's Mustang-T100, a new AI accelerator card, leverages five Coral Edge TPU™ co-processors in a half-height, half-length PCIe card, and offers computing capabilities of up to 20 TOPS at extremely low power consumption (only 15W). In order to run an AI task in a barrier-free environment, the Mustang-T100 can operate in a wide temperature range, from -20 ºC to 55 ºC.
For numerous AI applications at the edge, the Mustang-T100 offers two modes: multitasking in parallel and model pipelining. This means a model can be assigned to each Edge TPU, running up to five models in parallel for extreme computing efficiency or, for scenarios that require larger models or faster throughput, model pipelining allows each Edge TPU to execute different segments of the same model, improving performance for high-speed applications while reducing overall latency. For these reasons, the Mustang T-100 is an ideal AI accelerator card for image classification, object detection and image segmentation.
"With the Mustang-T100's integration of multiple Coral Edge TPUs, engineers can now bring much larger and computationally-intensive neural networks to the edge. This system enables operations like model-pipelining and multi-model inferencing, allowing engineers to take advantage of the fast, efficient, offline, and privacy-preserving benefits of the Edge TPU while building solutions that require large models and long AI pipelines" says Brian Chen, product manager, IEI Edge Computing Division.
"We're excited to see IEI World launching the new Mustang T-100 to enable new product innovation with edge AI, and we look forward to seeing more hardware integrations with Coral intelligence." Billy Rutledge, Director of Coral Platform at Google.
Additionally, IEI provides rich AI-ready platforms, such as the TANK series, the FLEX series and the DPRC series. All series are ideal for deep learning inference computing to help you get faster, deeper insights for your customers and your business. All IEI AI-ready systems are able to support up to four Mustang-T100 cards to deploy and run your AI projects in retail, transportation and surveillance efficiently.
News Archive

IEI Launches New ATX Motherboard Featuring 10th/11th Gen Intel® Core™ CPU and AI Capability – IMBA-H420...

IEI Launches HPCIE-Q470 PICMG 1.3 Half-Size Single Board Computer Featuring Latest 10th/11th Gen Intel® CoreTM Processors for Performance-Demanding Applications...

Grab the Emerging Smart Robotics Market Opportunities with IEI WAFER-JL-N5105...

IEI Integration Corp. is to reveal its new generation of high core count network appliances, the PUZZLE-7040 and the PUZZLE-7030, powered by the latest Intel® Xeon D Series Processors....

IEI IMBA-Q470 is an ATX industrial motherboard supporting Intel's 10th/11th Generation Core™ i9/i7/i5/i3, Celeron®/Pentium® processors and up to 128 GB 2933 MHz DDR4 memory. ...

Microsoft announced the release of the new operating system, Windows 11, in October. IEI has tested Windows 11 on our products over the past few months, and we can help you on the transition to Windows 11....

The HTB-210-Q470 has a professional heat dissipation system designed for the internal GPU card, enabling high-performance AI computing in a small chassis....

The PUZZLE-M901 and the PUZZLE-M902 are IEI's latest product series – Software Defined Router, which is pre-installed with OpenWrt and features high speed and high flexibility to optimize your network performance....

IEI cooperated with Intel® to offer a more stable and optimized network edge computing solution, IEI's PUZZLE-IN004, the powerful 1U network appliance with high bandwidth....