News
IEI ATX IMBA-Q470 with 10th/11th Gen. Intel ® Core™ Processors Accelerate Computing-intensive Edge AI
19.01.22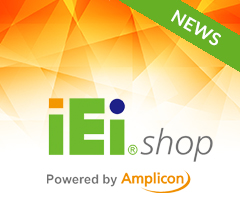 IEI IMBA-Q470 is an ATX industrial motherboard supporting Intel's 10th/11th Generation Core™ i9/i7/i5/i3, Celeron®/Pentium® processors and up to 128 GB 2933 MHz DDR4 memory. It also leverages M.2 M key NVMe PCIe 3.0 x4 to accommodate extremely high data rate and low latency advantage.
The IMBA-Q470 features PCIe x16 (PCIe 3.0) particularly suitable for AI smart factories that require high-speed I/O capabilities, or for edge medical applications that necessitate high-performance graphics cards. The IMBA-Q470 is an excellent solution to enable quick data capture, processing and analysis in edge AI applications.
Built for High Performance Edge Computing
The IEI IMBA-Q470 motherboard supports both 10th and 11th Gen Intel® Core processors, and the performance boosts up to 80% better than the 9th gen i5 processor. The 10th Gen Intel® Core platform supports up to 10 cores and improved performance over Coffee Lake-Refresh. With increased I/O capacity and the latest DDR4-2933 memory support, these processors deliver the performance required to consolidate industrial multiple workloads.
Because of the above features, the IMBA-Q470 is suitable for edge computing, industrial automation, medical equipment, machine vision, automated test equipment and much more.
Leading Connectivity
The IMBA-Q470 is equipped with two Intel 2.5GbE controllers, which are ready for the latest-performance router. With two 2.5GbE ports owning the benefits of low-latency, high-throughput and cost-effective, the IMBA-Q470 can meet the bandwidth-intensive requirements such as large file transfers and high resolution video streaming, which is ideal for machine vision and AI edge computing applications.
Two USB 3.2 Gen 2x1 (10 Gb/s) ports are integrated to support high density data transmission.
The M.2 2242/80 M-key socket with PCI Express® 3.0 x4 bandwidth supports up to 32Gbps data-transfer speeds. It's the perfect choice for installing an operating system or application drive to provide fast data access.
The M.2 2230 A-key socket supports PCIe/USB mode for creating a fast, cost-effective Wi-Fi 6 and Bluetooth 5.2 solution.
There is an array of expansion interfaces on the IMBA-Q470 to meet different demands of each customer. It supports up to three PCI, three PCIe x4 , and one PCIe x16 slot, which can be used to install a variety of interface cards, including motion control cards, frame grabber cards, video capture cards, I/O cards, communication cards, AI accelerator cards and GPGPU cards.
News Archive

IEI Launches New ATX Motherboard Featuring 10th/11th Gen Intel® Core™ CPU and AI Capability – IMBA-H420...

IEI Launches HPCIE-Q470 PICMG 1.3 Half-Size Single Board Computer Featuring Latest 10th/11th Gen Intel® CoreTM Processors for Performance-Demanding Applications...

Grab the Emerging Smart Robotics Market Opportunities with IEI WAFER-JL-N5105...

IEI Integration Corp. is to reveal its new generation of high core count network appliances, the PUZZLE-7040 and the PUZZLE-7030, powered by the latest Intel® Xeon D Series Processors....

Microsoft announced the release of the new operating system, Windows 11, in October. IEI has tested Windows 11 on our products over the past few months, and we can help you on the transition to Windows 11....

The HTB-210-Q470 has a professional heat dissipation system designed for the internal GPU card, enabling high-performance AI computing in a small chassis....

IEI is partnering with Coral to expand the edge AI business by providing an easier platform for AI developers....

The PUZZLE-M901 and the PUZZLE-M902 are IEI's latest product series – Software Defined Router, which is pre-installed with OpenWrt and features high speed and high flexibility to optimize your network performance....

IEI cooperated with Intel® to offer a more stable and optimized network edge computing solution, IEI's PUZZLE-IN004, the powerful 1U network appliance with high bandwidth....