News
IEI Drives New Gen. High Core Count Solution at 5G Network Edge with the Latest Intel® Xeon D Series Processors
25.02.22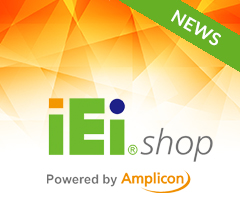 IEI Integration Corp. is to reveal its new generation of high core count network appliances, the PUZZLE-7040 and the PUZZLE-7030, powered by the latest Intel® Xeon D Series Processors (code-named Ice Lake-D) that provide significant performance improvement. Intel® Xeon D Series Processors drive high scalability with up to 20 cores with Intel® Turbo Boost Technology 2.0, and support up to 100GbE throughput and increasing I/O bandwidth with up to 32 PCIe 4.0 lanes for lower latency of devices connectivity and data transmission. It also runs with 100G Intel® QAT technology to offer better acceleration of crypto, encryption and compression, and CPU offload optimization. Moreover, implementing with Intel® Boot Guard, Intel® TXT, Intel® PFR and many more advanced technologies ensures optimum security for your existing or new digital platforms. IEI's new high core count platforms, the PUZZLE-7040 and the PUZZLE-7030, are definitely ideal for applications at network edge in the 5G market.
IEI's PUZZLE-7040, a 2U rackmount network appliance, not only leverages with Intel® Xeon D HCC Series Processors for advanced computing capability, but is designed with four network modules and one PCIe 4.0 x8 slot for extra add-on cards, AI accelerator cards or graphic cards for achieving high expansion capability and fulfilling a variety of demands at network edge. To increase the bandwidth and speed up transmission of mass data, the PUZZLE-7040 provides eight 10GbE SPF+ LAN ports and two 2.5GbE RJ-45 LAN ports, and supports PCIe 4.0 for double bandwidth and throughput.
For the requirement of space limitation, IEI also develops the PUZZLE-7030, a compact network appliance with only 1U height, to bring high computing performance with the latest Intel® Xeon D LCC Series Processors. The PUZZLE-7030 can deliver outstanding network speed with five 10GbE SFP+ LAN ports and eight 2.5GbE RJ-45 LAN ports, which can be expanded by one network module, and other add-on via the PCIe 4.0 x8 slot.
IEI builds different platforms for high-density network solution. Clients can select from the PUZZLE-7040 or the PUZZLE-7030 depending on the requirements of network edge. These powerful network appliances are going to be officially released at the end of Q2 2022.
News Archive

IEI Launches New ATX Motherboard Featuring 10th/11th Gen Intel® Core™ CPU and AI Capability – IMBA-H420...

IEI Launches HPCIE-Q470 PICMG 1.3 Half-Size Single Board Computer Featuring Latest 10th/11th Gen Intel® CoreTM Processors for Performance-Demanding Applications...

Grab the Emerging Smart Robotics Market Opportunities with IEI WAFER-JL-N5105...

IEI IMBA-Q470 is an ATX industrial motherboard supporting Intel's 10th/11th Generation Core™ i9/i7/i5/i3, Celeron®/Pentium® processors and up to 128 GB 2933 MHz DDR4 memory. ...

Microsoft announced the release of the new operating system, Windows 11, in October. IEI has tested Windows 11 on our products over the past few months, and we can help you on the transition to Windows 11....

The HTB-210-Q470 has a professional heat dissipation system designed for the internal GPU card, enabling high-performance AI computing in a small chassis....

IEI is partnering with Coral to expand the edge AI business by providing an easier platform for AI developers....

The PUZZLE-M901 and the PUZZLE-M902 are IEI's latest product series – Software Defined Router, which is pre-installed with OpenWrt and features high speed and high flexibility to optimize your network performance....

IEI cooperated with Intel® to offer a more stable and optimized network edge computing solution, IEI's PUZZLE-IN004, the powerful 1U network appliance with high bandwidth....