News
IEI Drives New Gen. High Core Count Solution at 5G Network Edge with the Latest Intel® Xeon D Series Processors
25.02.22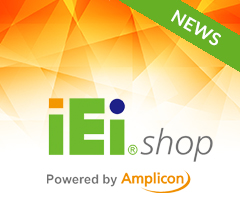 IEI Integration Corp. is to reveal its new generation of high core count network appliances, the PUZZLE-7040 and the PUZZLE-7030, powered by the latest Intel® Xeon D Series Processors (code-named Ice Lake-D) that provide significant performance improvement. Intel® Xeon D Series Processors drive high scalability with up to 20 cores with Intel® Turbo Boost Technology 2.0, and support up to 100GbE throughput and increasing I/O bandwidth with up to 32 PCIe 4.0 lanes for lower latency of devices connectivity and data transmission. It also runs with 100G Intel® QAT technology to offer better acceleration of crypto, encryption and compression, and CPU offload optimization. Moreover, implementing with Intel® Boot Guard, Intel® TXT, Intel® PFR and many more advanced technologies ensures optimum security for your existing or new digital platforms. IEI's new high core count platforms, the PUZZLE-7040 and the PUZZLE-7030, are definitely ideal for applications at network edge in the 5G market.
IEI's PUZZLE-7040, a 2U rackmount network appliance, not only leverages with Intel® Xeon D HCC Series Processors for advanced computing capability, but is designed with four network modules and one PCIe 4.0 x8 slot for extra add-on cards, AI accelerator cards or graphic cards for achieving high expansion capability and fulfilling a variety of demands at network edge. To increase the bandwidth and speed up transmission of mass data, the PUZZLE-7040 provides eight 10GbE SPF+ LAN ports and two 2.5GbE RJ-45 LAN ports, and supports PCIe 4.0 for double bandwidth and throughput.
For the requirement of space limitation, IEI also develops the PUZZLE-7030, a compact network appliance with only 1U height, to bring high computing performance with the latest Intel® Xeon D LCC Series Processors. The PUZZLE-7030 can deliver outstanding network speed with five 10GbE SFP+ LAN ports and eight 2.5GbE RJ-45 LAN ports, which can be expanded by one network module, and other add-on via the PCIe 4.0 x8 slot.
IEI builds different platforms for high-density network solution. Clients can select from the PUZZLE-7040 or the PUZZLE-7030 depending on the requirements of network edge. These powerful network appliances are going to be officially released at the end of Q2 2022.
News Archive

IEI KINO-TGL is a single-stack Thin Mini-ITX motherboard with rich I/O Interfaces...

IEI Integration Corp, a leading provider of industrial computing service, introduced the FLEX-BX210 2U rackmount computer....

IEI WAFER-TGL takes all the essential elements of the latest 11th Gen....

IEI a new addition to its network appliance, the PUZZLE-9030 for SD-WAN architecture and secure access service edge (SASE) solutions...

The 10th Gen Intel® Core platform supports up to 10 cores and improved performance over Coffee Lake-Refresh....

IEI Launches New ATX Motherboard Featuring 10th/11th Gen Intel® Core™ CPU and AI Capability – IMBA-H420...

IEI Launches HPCIE-Q470 PICMG 1.3 Half-Size Single Board Computer Featuring Latest 10th/11th Gen Intel® CoreTM Processors for Performance-Demanding Applications...

Grab the Emerging Smart Robotics Market Opportunities with IEI WAFER-JL-N5105...

IEI IMBA-Q470 is an ATX industrial motherboard supporting Intel's 10th/11th Generation Core™ i9/i7/i5/i3, Celeron®/Pentium® processors and up to 128 GB 2933 MHz DDR4 memory. ...